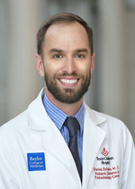 Daniel Joseph Desalvo, MD
Baylor College of Medicine/Texas Children's Hospital
Pediatric Endocrinologist
Dr. Desalvo joined Texas Children's Hospital's Section of Pediatric Diabetes and Endocrinology in July 2015 after completing a postdoctoral fellowship at Stanford University. He serves as the Type 1 Diabetes Clinic Lead, Director of Strategic Collaboration for the Texas Children's Diabetes & Endocrine Care Center and TCH Diabetes Transition Clinic Co-Lead. His clinical and research focus is on emerging diabetes technology and therapies (including continuous glucose monitoring and closed-loop automated insulin delivery systems) for improving clinical outcomes and reducing the burden of care. It was through his personal experience living with type 1 diabetes and a desire to help others on a similar journey that motivated him to become a pediatric endocrinologist.
---