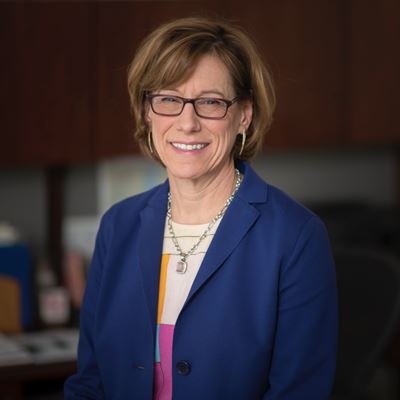 Robin Steinhorn, MD
Senior Vice President for Hospital Specialties at Children's National Health System
Robin H. Steinhorn, MD is Senior Vice President for Hospital Specialties at Children's National Health System in Washington, DC, where she oversees inpatient specialty pediatric services, including neonatal intensive care. She also holds a faculty position as Professor of Pediatrics at George Washington University School of Medicine.
Dr. Steinhorn received her medical degree from Washington University in St. Louis and completed pediatric and neonatal perinatal medicine training at the University of Minnesota. Following initial faculty appointments at University of Minnesota and SUNY Buffalo, Dr. Steinhorn served as the Raymond and Hazel Speck Berry Professor, Chief of the Division of Neonatology, and Vice Chair of Pediatrics at Northwestern University and the Ann & Robert H. Lurie Children's Hospital of Chicago from 1999 through 2012. Dr. Steinhorn then was appointed as the Dennis and Nancy E. Marks Endowed Chair of the Department of Pediatrics the University of California Davis and the Physician in Chief of the UC Davis Children's Hospital through 2015.
Dr. Steinhorn's clinical and academic interests have focused primarily on neonatal lung and pulmonary vascular development, and more recently on severe bronchopulmonary dysplasia. She has helped develop the classification systems for pediatric pulmonary hypertension and neonatal chronic lung disease. Her clinical research work has addressed other topics such as harmonization of electronic health records for clinical research and telemedicine support of neonatal care in small rural hospitals in the United States. She has mentored numerous neonatologists and scientists, and many have developed their own funded laboratories and become division heads or program leaders.
Dr. Steinhorn is President Elect of the American Pediatric Society and a member of the Board of Directors for the American Board of Pediatrics. She is an elected Fellow of the American Heart Association and a member of the Perinatal Research Society. She has received multiple honors, including an Established Investigator Award from the American Heart Association, and the Jonas Salk Health Leadership Award for Research by the March of Dimes Illinois Chapter. She is especially passionate about mentoring faculty and supporting the growth and career development of young academic pediatricians. She is married to David Steinhorn, a pediatric intensivist, and is mother to Rachel, an anesthesiology resident physician, and Benjamin, an MD, PhD student.
---