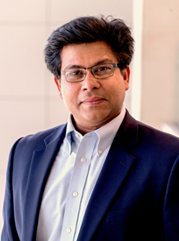 Saurabh Biswas, PhD
Texas A&M University
Executive Director for Commercialization and Entrepreneurship
Saurabh Biswas serves as the executive director for Commercialization and Entrepreneurship at the Texas A&M Engineering Experiment Station. He has over 15 years of combined experience in medical technology innovation, health care entrepreneurship and new ventures portfolio management. His primary research interests are in applying the principles of cardiovascular mechanics in identification and subsequent design and development of medical devices to treat heart failure and similar complex pathologies of the cardiovascular system. As entrepreneur-in-residence, he plays a critical role in identification of research and technology platforms with disruptive potential and executes strategies to accelerate commercialization. To enhance hands-on entrepreneurship training and education, he plays a key role in both mentoring and bringing NSF I-Corps programs to students and faculties across Texas A&M.
---